Posted on June 18th, 2012, by Mary Jo
Homechooling Today has been part of my family's homeschool journey almost since the beginning. I'm honored to write the "Literature through the Centuries" column for the magazine and still enjoy reading each issue after 15 years of homeschooling.
To celebrate their 20th anniversary, Homeschooling Today is hosting 20 weeks of fabulous prizes AND special Grand Prizes worth hundreds of dollars!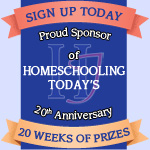 I've donated a copy of my time management course How Do You Do It All to the prizes.
You can enter the drawing for all the prizes here.
The weekly prize drawing is open to anyone, but only subscribers are eligible to win grand prizes. You'll find an abundance of practical tools, encouragement, and inspiration for your homeschooling.